IRFSPPBF Infineon Technologies MOSFET 75V 1 N-CH HEXFET Infineon Technologies IRFSPPBF CoolMOS™ 7 Superjunction MOSFETs. manufacturer's name, IRFSPPBF. case, D²Pak. max. drain-source voltage [V], max. continuous drain current TC = 25°C [A], max. drain-source. IRFS reel – Xtron · Yuasa · Zettler electronics · Zilog. IRFS reel. power-mosfets View larger. power-mosfets IRFS reel IRFSTRL7PP.
| | |
| --- | --- |
| Author: | Akinobar Meztilabar |
| Country: | Botswana |
| Language: | English (Spanish) |
| Genre: | Love |
| Published (Last): | 27 October 2006 |
| Pages: | 410 |
| PDF File Size: | 18.77 Mb |
| ePub File Size: | 17.2 Mb |
| ISBN: | 700-4-70489-418-5 |
| Downloads: | 35089 |
| Price: | Free* [*Free Regsitration Required] |
| Uploader: | Mikashicage |
Hi Shane, I thought that you might not be able to restrain yourself from designing another controller for this project! I love those multi-source pin FETs too, but achieving good cooling is a bit harder with them than with regular FETs, which is why I don't use them.
Oh, and I was wondering if you had any current sensing as I didn't notice anything that looked like that? Before I forget, I want to thank you for posting your brushless controller's source code a month or so ago – very cool and also very generous of you, Shane!
I haven't looked at it for a couple weeks now, but I think it's the version that runs on the 32 bit MCU, right? I ask because I have my own controller designed around a 8 bit PIC 18Fand was thinking of having some fun with some of the tastier code tidbits from your code. BTW, I think you could have pulled off making this controller without any isolation and maybe also faster switching speeds thus less switching losses and less parts count.
One important thing that would reduce ground noise much in your layout would be to tie the low side FET sources together very closely instead of doing this to the high side FET drains, a less critical point.
Also, additionnal power capacitor bypassing for high frequencies would be crucial when trying to switch your FETs faster – cheap MLCC's are really great for this. It would be a very small present compared to all the cool info you share!
What I was thinking of doing sometime is modify my firmware to make a dual brushed motor control mode – that would make for a very versatile controller.
I've been thinking of using a mountain bike tire with the side walls removed instead of a timing belt as a track. Many tires have a quite flat profile and good threads so it might work, and then I could use much smaller diameter, smoother tires as the drive wheels.
IRFS 3107-7
If I do try this out and it works I'll send you a photo I'll probably post it on the endless sphere ebike forum – http: The previous design was based on a bit MSPF However, the code is virtually the same in terms of structure. As long as phase current and rotor position are sampled synchronously, the speed of the slow loop can be reduced to fit the processor. I have no doubt it will run just fine on an 8-bit processor, provided that it has three independent PWM channels 18F looks good to me.
No current sensing on this controller. It can probably handle stall current for short bursts, so I'm not too worried. The motors might not last that long, though. If the brushes get vaporized, I'll probably switch to sensored brushless, for which I already have a pretty good solution. I get what you're saying about isolation and ground noise.
I've used the IRS drivers for my brushless controllers without isolation and they seem to work well up to 50A, but for some reason it just makes me more comfortable having an optical barrier in the circuit. Maybe it also makes me more careless about power-side layout, though Sometime soon I might try designing a higher power controller and then I will revisit all these considerations. Hi Shane, I really like your motor driver.
IRFS , power MOSFETs – elpro Elektronik
Would you mind posting some more information about it such as bill of material, eagle files and arduino sketches. Great write up and controller Shane.
I was wondering how further testing went and also if you had a bill of material you can post. Thanks and again great job. I've tested it on a bunch of motors with no problems so far. I burned up several motors with it, so it seems it wasn't the weakest link up to about A for brief durations. Hi Shane, I got some question on this circuit. I mean the high side, is it should be a P-Channel mosfet? I'm kind of new at this thing.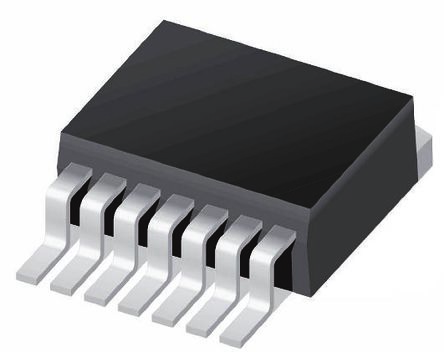 It's silly question btw. Didn't read it through. I was looking for schematic first and then suddenly curios TKP. Hi is it possible to post the design files to a working link? I'm a student from Brazil, willing to build a DC-motor controller as you have done but for a different application: I've just entered this universe, even studying electrical engineering, and I've started my own board with a irrfs3107 driver, the HIP, that's the only thing I had available Well, I made my PCB, with all the gate resistors, reverse diodes coupled with the Mosfets, pull-down resistors attached to gate-source pins, but I'm facing a heating problem in the HIP: I appreciate your help and congrats for the blog!
Hi Caio, Thanks for the kind words.
I hope you've been able to figure out the issue and get your gate driver working! If anything, I would have expected the FETs to take the heat in that case.

Hope you were able to get it working, though! Monday, January 10, Victor Okay, so I know I said that one of the best things about building a brushed DC motor-based snow scooter was that for just this once I do not have to design a motor controller for the project What's that blue thing? Because these are such massive FETs, they take a good microsecond to turn on and off with ohm gate resistors.

But, as I found out in one of my many other controller troubleshooting sessionsslowing down the gate drive a little can sometimes help clean up noise. I chose a capacitor C10 above to set the dead-time to 1.

Aside from the fact that I soldered four out of six irts3107 in backwards the first time, the controller so far seems to work. I've only tested on the bench supply, but it was able to drive about 25A before alligator clips started melting. Once I get it hooked up properly to a battery, I'll be able to really load test it.

This one's not mine, okay? I borrowed it for the irffs3107. Hopefully, krfs3107 will just work and I can plop two of them into the snow scooter to run at 18V-ish. But in general, I'd be glad to have a Victor alternative for other projects as well. If it survives some more abuse testing, I'll post the design files so you can try it out yourself. For now, here's the full schematic:. Click for full resolution image. Oh, irvs3107 it runs on an Arduino.

Did I forget to mention that? Posted by Shane Colton at Patrick M January 21, at 6: Shane Colton January 24, at 5: Kevin April 18, at 3: Shane Colton April 22, at 1: Kevin April 22, at 6: Shane Colton July 7, at Anonymous April 14, at 7: Anonymous April 14, at 8: Anonymous November 9, at Shane Colton July 9, at MA March 26, at 2: Caio May 31, at 5: Shane Colton August 25, at Newer Post Older Post Home.

Thesis ] [ S.

Categories: