The Siege of Vraks was a major campaign waged by the Imperium to reclaim the . In the end, the Chaos fleet overwhelmed the Imperial planetary defenders. Explore Defender of vraks's 45 photos on Flickr! Defender of vraks. Follow. Give Pro. 1 Follower•0 Following. 45 Photos. Joined About · Photostream. More. Copy link to Tweet; Embed Tweet. 40k Lore, The Siege of Vraks! The Defenders: ?a via @YouTube.
| | |
| --- | --- |
| Author: | Kajiktilar Moogukora |
| Country: | Namibia |
| Language: | English (Spanish) |
| Genre: | Health and Food |
| Published (Last): | 25 November 2011 |
| Pages: | 415 |
| PDF File Size: | 16.38 Mb |
| ePub File Size: | 17.94 Mb |
| ISBN: | 390-6-61920-200-7 |
| Downloads: | 55181 |
| Price: | Free* [*Free Regsitration Required] |
| Uploader: | Fenrikora |
AbsoluteBlue – click to view full reply. AbsoluteBlue Captain Scarvos paced and contemplated the latest news, reports had come in from command intelligence indicating four Thunderhawk transports were landing south of the Saritama Hills, The unit at location reported the Thunderhawks bore Adeptus Sororitas iconography, ot that was all they knew.
Unfortunately, contact with the observer was lost before additional details were communicated. It was the duty of his company to confirm these reports and exterminate any new threats. However, before committing to a full engagement, he needed to send his own reconnaissance team to gather full details on this new enemy. Over the course of 18 weeks we will progressively build our armies, with a battle played every three weeks.
The milestones are as follows: With Shep doing Tau.
Vraks – 1d4chan
This is old news, but I figured I would update the main entry to clarify what you may read about Shep's army below. Models Painted on Time: Elnicko5 – click to view full reply. Elnicko5 Good luck on hitting those goals, I defwnders be following this thread. Now get some painting done. Kevin Nash – click to view full reply.
Defender of vraks
Kevin Nash Here is some of the competition: This is what I have so far. I intend to add another Immolator and a Rhino to get to Le Grognard – click to view full reply. Le Grognard Nice concept, I shall be following this thread and stealing your idea in lieu of the 'esclation league' format at the FLGS. Deff Dread red Edition – click to view full defdnders. AbsoluteBlue Did a color test using one of my models. I think I am close to the color scheme I want. More taking notes for myself right now but I also discovered I need better lighting for my light tentas the model is a bit darker in person.
Renegade IG are totally rad. I am liking the color scheme so far, but I think maybe something different for the head.
Maybe a leathery brown or something like that. Can't wait to see them finished! Elnicko5 I like it, but it does indeed lack pop. Ever consider a dirty whitish cloth for the rags on his head. Depending on how detailed you wanted to get you could even put stains blood, bile, ect. Stretch – click to view full reply. Lookin' good though, I will deffinitly follow this to see how everything turns out. Kevin Nash I worked on a second one today. Anyone have any advice on how to do the eyes?
I'm going to go over the hair again as well and fix the gold jewelry. The next step is gonna be to do the remaining infantry in bolt gun metal. I look to acquire and build the Rhino on Wednesday.
Deff Dread red Edition I think It would be cool and also make your renegades stand out more if there head cloth were to be a red or green. Kevin the eyes are fairly easy just grab your fine detail brush and paint them white and add small dots of black for the iris. AbsoluteBlue Deff, and others. I think you are all right on with giving some color to the head cloth.
I am going to paint night this wednesday, where I will meet up with Shep, Gitsmack, and others that are far more prodicient with the color palletes and I will bounce this feedback off them so they can help me with a good color fit. I am a bit color blind, so color selection is difficult for me. In the meantime, I am moving forward with the existing color scheme, for the sake of meeting my goals, but if we can come up with a good color for the hoods, I can do a quick re-paint of just the hoods, which will go fast.
Shep – click to view full reply. Did a color test using one of my models. Kevin Nash Shep wrote: Great job so far! Did Nash tell you I'll be joining you guys? You can keep me out of the fluff since you have such a great witch hunters versus traitors matchup going, but I just want the extra motivation that timelines and competition brings.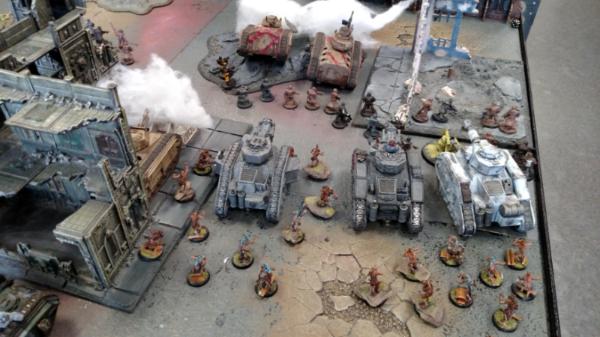 GitSmack – click to view full reply. Good to see you getting bloggy about your traitors. One little suggestion for pop I like what Shep said about the chaos markings in red too Keep up the good work! Kevin Nash Here is my progress for tonight. I like how you brightened them up a bit. Kevin Nash I got a lot done on the Immolator tonight. I also have a second Immolator in the mail. I have decided on holding off on doing the extra level of detail until I have the entire points is complete, as I need to remember I am on a time limit.
I am doing some additional weathering and details for the Chimera and will post those this weekend. How many more do you need?. AbsoluteBlue For better or worse the bases are going to have to match my Realm of Battle Board For which I use Scorched Brown, Dark Flesh, and a Drybrush of Kommando Khaki, it looks a little muddy, and as part of the basing I will also me muddying up the boots, so good call!
For pts I just need to build and paint 4 more guardsmen, base all 20, weather and detail my built Chimera, and build, paint, etc 1 more Chimera. Yeah the SoBs are going down I have decided to replace my 2 Meltas with Plasma Guns, so if I can force him out of his vehicles before he gets close, I win.
I also have 2 weeks left, so that should give me enough time to go back and add at least one more level of detail to everything. I worked on a second one today. TheGrin – click to view full reply. I love your models esspecialy the faces Kevin Nash lord marcus: Thanks for the tips on the eyes. I'll give it a shot.
I did a lot of work on the Immolator tonight: Starting with my first attempt at free hand drawing on a tank we have the Chimera: I am really happy ddfenders the way the Chaos iconography turned out and I look forward to adding more symbols and graffiti to this Chimera. Next, I have the full squad, including the Chimera and the attached Enforcer: Edfenders basing was done to specifically match my Realm of Battle Board.
I haven't applied any of the great input that I have recieved on this thread, yet. However, I am stopping at this level of detail, until I finished off the second squad and see how much time I have left. Thanks to the inspiration and guidance from Shep, I am extremely happy with the results of the Heavy Weapons Team: The best part, and all thanks to Shep, and his Vostroyan Re-Paint Plogfor telling me how to do this, is that I like how well the spotter fits in and is removable: The full progression for the base is seen here: Now I am off to finish the second squad!
Again, thanks for the input! AbsoluteBlue The blasphemous quote will definitely make it onto the tank during detailing!
Thanks for the recommendation on the krylon clear spray, and after I do a few more rounds of detailing on all of the models I will probably do that Thanks!. Somnicide – click to view full reply. Somnicide Hey man this is looking great! I still can't believe the quality of work you are cranking out at that speed. You have a p-log for your Black Legion? No p-log for the Black Legion: I will consider maybe doing a p-log for it, though I feel like I'd be cheating since its already painted up to And it is constantly evolving, albeit slowly now that I have this second army growing.
Chaos renegade sentinel conversions | Defender of vraks | Flickr
I have learned so much since starting that Black Legion army, I feel like I could revisit it and considerably enhance the quality of it. Deff Dread red Edition Loving the renegades I think that splash of colour really makes them look vrakss.

I can't wait to defendeds what you have finished by this weekend. I really like the idea of doing a "Blog to Apocolypse" to showcase your Black Legion as it adds a few models to reach Apocalypse size.

Categories: